So you have a bug problem right? It could be fleas, wood roaches, ants, gnats or any host of things you just want gone. Undoubtedly you want the fastest most effective solution that costs the least. A professional pest control company may cost big bucks so you head off to the big box store and peruse the many selections in the home and garden isles. So many choices and so many tiny words on the packages it boggles the mind.
Now I'm not trying to insult your intelligence (much) but after trying to look for the perfect antidote to your specific problem and only getting more confused you're reduced to looking at the pictures on the box. Ahhh, that looks like what I have! So into the cart it goes and it's off to the plumbing section, oh better get 2 more boxes just to make sure I get them.
More times than not your purchase for indoor bug infestations are 'bug bombs'. Little cans of fogger insecticide that will fill the room and rid you of that tiny creature the $ 4.00 can of raid just couldn't.
Now you're home and it's time to BOMB. You sort of read the label and you know you should really pull out all the food stuffs and cover them but man that's a lot of work. Besides the Cheerios are in a box all closed up so it won't affect them. The silverware, aw you'll wash it when you are done. Just then you spot two little buggers peeking at you from inside the clock window on the stove. You'll fix them as you place your first can of death in the optimum place. You take out the other 3 cans from your box of 4 and your assault is taking shape.
With your bandanna wrapped around your mouth, (it won't stay up on your nose) you click the trigger and the 'hiss' of death begins to sound as a foggy mist begins to spew upward.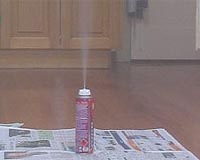 You take another can a go closer to the sink and click again. The cans don't seem to be putting out that much and you're a little disappointed, so thinking quickly you'll need to angle this one directly into the open cabinet. You look for something to lean the can on and fumble through the drawers and wella! A can of tomato soup will do nicely. Now the 4th fogger has to angle the other way to catch the cabinets to the left and so you use some Ritz crackers in a plastic sleeve to get just the right angle. Hey, that's thick plastic it shouldn't be a problem.
Ok, kitchen's done but still where is the cloud you were expecting? Better put 2 more out. Quickly now because your mouth covering is obviously not keeping out the smell. You rip open the extra box you bought and fumble and click as fast as you can. A little nauseous by now you place them on the floor and scurry out of the house.
Outside you sit on the front stoop taking the protective covering from your face. Light headed and a little nervous you take a minute to breathe in some fresh air. A minute or two later you feel slightly better so now it's time to kill 4 hours. Oops, you left your keys inside. While you could just sit for the duration you really thought you'd get some things done, so back on the bandanna goes and you take a deep breath and rush in. The keys are glistening now on the kitchen counter as you cut through the fine mist, swoop them up and back out.
Finally you can leave and come back to a pest free home.
Was that worth it? Has that happened to you or someone you know? I realize in today's economy we all need to save some money and believe me I'm a do it yourself kind of guy. I have a date this week with a toilet bowl that needs a new wax seal and I'm not looking forward to it. Perhaps some plumber is reading this right now and just shaking his head.
I'll write later on the failings of fogging and certain pests you'll never get using them but I thought this example would ring true to so many readers. It should because I hear so many times from new customers who say they've fogged the place multiple times with no results.
So tomorrow morning while you're eating your Cheerios (which may taste a bit odd) and your contemplating the idea of 'bombing' your house for bugs just think about the entire process. You may just change your mind, especially when you see those bugs still in the stove clock window who you just know are laughing at you.