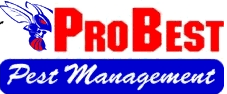 This article was written by Keith V. Birkemeyer from ProBest Pest Management and blogger extraordinaire. His insights on scorpions come from years of service in Florida and Arizona where scorpions thrive and really need the attention of a professional. You can see Keith's expertise on his blog Probestsblog blog and is well worth your time. Besides informative articles, he has news stories, guess that bug, pictures and more. One of my favorite articles is "Top 5 questions asked of Probest's Pest Management". Oddly enough the #1 question has to deal with his subject in this article. Enjoy.

I think I would rather take a sting from a scorpion than the Black Widow spider, I really hate spiders. The sting from a scorpion usually just causes local pain, itching some swelling may occur and is sometimes compared to that of a bee sting. Some people may be highly allergic similar to a bee sting and may require immediate assistance call 911 or Poison Control 1-800-222-1222.
Scorpions give live birth and often carry their young on their backs. If this glue board was at your home, I think you need a Professional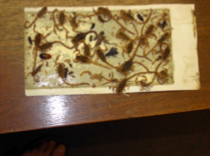 Pest Management professional who has the knowledge to deal with this pest. Scorpions eat other bugs so using pest control is a great way in keeping those other bugs down. Scorpions hunt at night and often hide during the day under rocks or in block walls due to the retaining of heat and remember they can climb vertical and will climb straight up to your attics. After getting into the attic they will often fall into the home via the small opening around fans, recessed lighting or other holes in the ceilings. Here in Arizona they love to hang out on the block walls and we do a lot of night work to capture them (reducing the numbers help).
The process of control: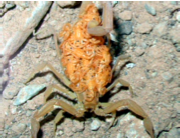 Identify the bug! You must know what you are up against.
First and foremost seal up your home, exclude them from getting in and this is probably better than ½ the cure. Seal up door thresholds, loose fitting screens, any holes around electric or pipes, door and window frames and any areas where boards fit loose.
Reduce the clutter around your home, no firewood next to your home and landscaping is fine but away from the home. River rock is nice as well but keep in mind scorpions hide under rocks.
Reduce the food, no crickets – no scorpions as least we hope. Pesticide application by a pest professional is a must and will help to reduce the numbers. Do it yourself scorpion control seldom works because most homeowners do not have the knowledge or equipment to find and properly treat the harborage points scorpions inhabit.
Remember never stick your hands anywhere where you can't see! You might just find out the answer to our title question the hard way.