Did you know a church becomes a "mega church" when it gets over 2 to 3 thousand people regularly attending?. According to the government you're considered a small business if you have 500 employees or less. They even have a number where you can gauge if you're rich. Earning $250,000.00 or more puts you in that class but you're still miles away from being mega rich- for that you need to earn millions. I don't even want to talk about uber rich, I'm depressed already.
So are you a Mega Pest Control Company? If not don't dismay, in fact the majority of the pest control companies in the world are what most would consider small. In fact, based on the definitions above they might just be specks on the map. Just Mom & Pops working diligently or a hard working guy or gal who struggled and put in the effort to assemble a nice crew. These firms for the most part do very nicely and you'd be amazed at some of the impressive accounts, equipment and knowledge they have. While the mega companies are the most visible I contend it is the small companies that are the back bone of the industry.

The Reason I Ask
I only bring this up because lately I've had more than a few e-mails and solicitations to vote for or nominate a mega company for a major publication. Boy, I really don't know anyone in a Mega company and I'm not sure anyone would return my calls from one. Not only so but recently the Top 100 list came out and I didn't see a single Mom & Pop company listed. Then there is the Pest Control Hall of Fame which I don't see a lot of single operators being inducted & so it got me thinking.
How Is It That The Backbone Of The Industry Gets So Neglected?
To be honest I think I know the reason but I'd like to hear from some of you. And to be fair I will also say that as of late there has been at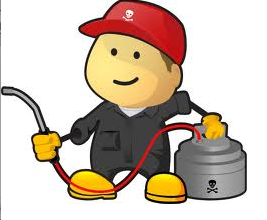 least some attention in the form of mentions, quotes and even articles in pest publications and major web sites. This however- from what I can tell is a result of either being active on web forums, blogs or perhaps doing something extraordinary. I mean who ever heard of Tom Rasberry before he discovered a new ant species in Texas? Or who ever knew who I was until I began writing this blog 3 years ago?
I get many (many) e-mails from the single operators around the nation who comment on this lack of recognition. They feel like the magazines totally target the big companies and offer very little help for them. Comments like,
I don't have a HR department, a service manager or a fleet of trucks. Why don't these people write about things I can do to help my business?
Like I said, I have an idea of why but it doesn't change the fact that the largest section of the industry is so ignored. And don't get me wrong, one day I'd LOVE to be a mega company and sit back on my lanai reading my monthly subscription and wondering if this year I moved up to # 39 on the top 100 list. Ha! Till then I guess I'll just have to keep my coveralls in my service truck because work doesn't get done by day dreaming.