Every three months the licensed pest control firms in Florida get a report from the state listing all the violations and those who committed them for that quarter. It's a public list and one that I hope I'm never on. Many of the infractions seem ticky tacky but I understand rules are rules. Violations range from the seemingly harmless like not having proper paperwork but go all the way up to things like performing pest control without a license. Penalties also vary and can be as mild as a warning letter or as final as a cease and desist order. There is however a violation that has come to my attention a few more times lately than I remember in the past & it involves our friends the trappers. That is unlicensed pest control operations and my question is. Can there be exceptions to the rule and is this even fair?

Pest control disciplines can be broken down into multiple categories from state to state. There's bird, rodent, termite, termite inspectors, pest control, bees, fumigation, trapping, weed, lawn, fumigation and more I'm sure. With as many distinctions of pest control service there can also be many different ways these are categorized for license purposes. Some licenses will allow for multiple pests included while a few are almost always separate. For the most part, this makes sense & I agree with the distinctions but when it comes to trappers should we allow some wiggle room?
Now I can see the argument of a lawn spray company not doing an airport for bird control but what about a
trapper? Who better to have access to animal control products right? What about a home of a client who has birds in the attic? Can a trapper perform mouse control? Isn't this an animal? Silly question but I've received more than a few letters from frustrated trappers indicating this was in some areas either a direct violation or at best, in the gray area.
In my state I'm licensed for pest control, termite and lawn and I am registered with the state for their list of trappers but I have never taken nor been required to have formal testing to show competency for trapping. Still, with just my pest license I have every right to charge you money for trapping an animal on your property such as a raccoon, armadillo, bats, squirrel and even the most commonly associated for a pest control man, rats and mice. After the animal(s) have been taken care of my license allows me to spray pesticide for any parasites the critters may have brought along with them. The trapper on the other hand cannot be so versatile and is not allowed to spray at all and in some areas not even use a glue board for mice.
To me something seems a little skewed with this approach. Even state agencies trying to cut budgets allow for special certificates so their employees can do limited pest control procedures on government facilities. These limited certs require testing, annual renewals and ceu's to assure the applicator has at least the basic knowledge to apply the products safely. Couldn't this be done for trappers?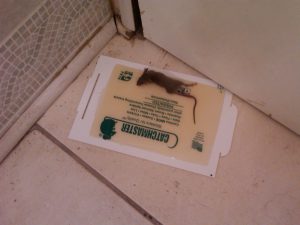 I realize that trapping rules are very different from state to state and for some-you have no problems like I've described at all. But for the trapper that can't put down a glue board for a mouse or spray pyrethrin for bird mites once he's taken out a nest. I believe this is unfairly limiting a valuable and skilled service.
What say you?