September 14, 2010
Under qualified termite Inspectors
Mega Termite Sales Inc.
4321 First Street
Anytown, State 54321
Dear Mega Termite Sales Inspectors,
It has come to our attention that many wood destroying organism/insect reports have been issued in error as well as 2nd opinion inspections conflicting on the subject of wood rot/ wood decaying fungi. As of this correspondence we our unaware of any state requiring the listing of water damage on the state mandated reports. While wood decaying fungi is considered in the same class as other organisms that eat or destroy wood, water and it's associated damage is not.

Wood decaying fungi commonly and perhaps erroneously known as wood rot is a LIVING organism and as such grows and feeds on cellulose material, primarily wood. Visible 'blooms' or 'mycelium' are the key characteristics which are visible and the inspectors main clue of the presence of wood decaying fungi. Certain fungi manifests itself in 'cubed' damage which goes across the grain known as Cubical Brown Rot while other fungi is identified by the wood turning whitish. Wood decaying fungi is not limited to these two but they are the most common that inspectors will find. It is the inspectors responsibility to know the correct symptoms and visible keys to correctly ID wood destroying organisms.
Water damage can be destructive to wood found in homes but is not a living organism as defined by standard pest control. Damage is usually characterized by shrunken wood or visible damage that goes with the grain. Wood that repeatedly gets wet and then dries as from leaky roofs or plumbing can be severely weakened but without the presence of the key elements listed above it cannot be determined as wood decaying fungi with a visual inspection. Also of note, 'Dry Rot' also commonly listed on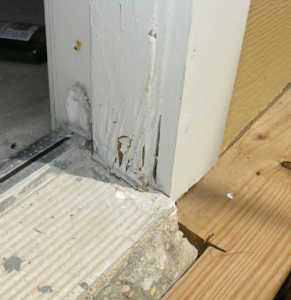 inspection reports is simply damaged wood that has dried and is in and of itself not a determining factor of previous fungi and does not fall into the wood destroying organism definition unless the keys listed above are present that show previous activity.
The danger in listing water damage as wood decaying fungi is that it could result in unnecessary litigation but more importantly reflect negatively on the professionalism of WDO/WDI Inspectors everywhere. Of course fungi needs water in order to live and grow and often times it is a fine line between water damage and wood decaying fungi. It is however a determination that needs to be made correctly as with any insect or condition we are charged with identifying for the purposes of real estate transactions. Just because your screwdriver can be driven into water damaged wood it does not automatically mean you have a wood decaying fungus present.
Thank you for your attention to this matter and should you need any additional help in properly identifying wood destroying organisms, please feel free to avail yourself and your inspectors to this instructional video on wood decaying fungi.
Sincerely yours,