At pestcemetery.com we go to great lengths to bring you vital information that will help in your struggle against bugs. Recent technology has allowed us access into the mind of a roach and we were able to glean certain thoughts of the roaches deep sub conscious. The machinery is complex and although a roaches brain is small we were able to ascertain certain things that may help you locate nesting sites. Unfortunately the overload of synapse firing from our device, um, well, permanently altered the specimen so we were only able to get a small bit of information.
5 roaches were scanned and brain transmissions were captured and translated. All seemed to be concerned with secure spots in which to hide; Our research is as follows.
The 5 spots
Oh what a glorious place to be if you're a roach. I normally have quick access to the sink and stove. I
have warmth and darkness and can quickly scoot to the motor parts for protection if the homeowner is trying to spray me. Besides they hardly ever pull the fridge out it's to heavy.
Ahhh, the comfort, shelter and the warmth of the clock. It's so easy to pop in and out of the vents and find a never ending supply of tasty crumbs underneath. I'm 2 feet from the sink and my homeowner is too leery to spray in this electric mass of wires and even if he does he can never reach all the voids in here. I like it.
Ok, so I don't have instant access to water but the fridge and microwave are full up. Besides I am so comforted by the tight surroundings and I'm so quick, by the time they open the door to spray I'm off and running. Plus I'm right here next to all this food in boxes and bags and there is always enough no matter how the wife tries to keep clean. Since I work the night shift anyway, I'll wait to get a drink then.
Dish washer door and frame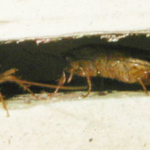 I must be in roach heaven. I got a humid climate, warm warm warm and those soggy scraps are to die for. Did you see that lasagna? Oh big bad man of the house just soaked the door down with Raid, I just hid in the insulation while my buddies were in the door voids and we just laughed out loud. That's Ok, we can wait, the next time you wash the dishes all your spray gets washed away too. Mama is cooking meatloaf tomorrow, oh yea.
I love this sink, I can get fresh water from the pipes even if they aren't leaking, I visit my friends next door at the dishwasher any time I like and I got my cousins living in the hinge. Plus I can hide in places you can't imagine. There are so many ready made cracks for me just to sit in and enjoy all the darkness I crave. If you hire a professional I have a quick back exit where the pipes come in and you won't see me for weeks. Now I don't appreciate the bleach and all the cleaners you got in here but the soap tastes good and the dog biscuits are always a treat. I think I'll raise my family here.
As you can tell, these roaches main concerns were food, water and harborage. If you have any of these spots in your home and are seeing German roaches we would recommend a thorough treatment. If liquids won't reach or are not safe (such as around food and electronics) than use of
baits should help. If desired results are not achieved quickly, please call your local pro.
On going tests are being done as we speak but we are encountering problems with some electrical issues concerning the roach and our machine. We will update this article when such problems are resolved.