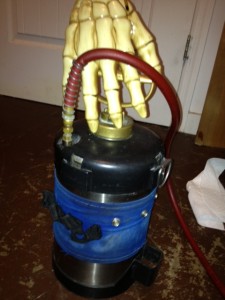 Pesticides came about after the first world war. Some brainy petrochemical money maker said, 'Hey, that mustard gas worked great on people, maybe we could dilute it down and spray it on our crops to deal with pests.'
Woody Harrelson
Ignorance is not bliss…it's simply ignorance
Have you ever gone into an account and someone looks at you in all seriousness and said, "Hey, aren't you afraid of getting cancer?" I sure have, and over the years my responses have varied. I've tried to use humor –you know, the ol Dursban twitch line. I've tried to be scientific, I've ignored them, and once I even responded "yes I'm deathly afraid"- That person looked at me and their jaw dropped to the ground. I finished my comment by adding "it would help if you didn't blow your cigarette smoke in my face." Eh, that didn't go over real well.
But in all these occasions I cannot remember ever really convincing anyone. So realizing this, I rarely take anyone to task. However, one consistent fact I always share that only changes as I spend more time in the industry is this. "I've been doing this 5 years & I'm perfectly healthy."… I've been at this 10 years… 20 & now I can proudly I can say 30 plus & I am healthy as a horse. Alas, even with this my words so often fall on deaf ears.
But I've decide from now on I'm going to state this scientific fact & if you are a pesticide applicator in Florida, you might want to consider using it as well.
"It is a proven scientific fact–pesticide applicators were consistently and significantly healthier than the general population of Florida."
{ 3 comments }