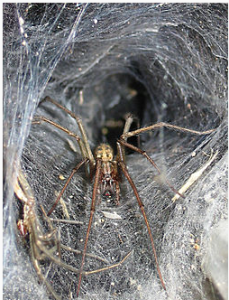 Like the hobo house spider, the giant house spider is a native of Europe that has found its way to the United States through human activity. It is active in the Pacific Northwest.
The spider is named as such because of its incredibly long legs. Females can have leg spans of approximately 45 millimeters in addition to its 18-millimeter body size. Males on the other hand can have longer legs of up to 75 millimeters, and body sizes of 12-15 millimeters.
The giant house spider also builds funnel-shaped webs most often in a corner or in between objects not frequented by large animals or humans. It squeezes itself into the narrow end of the funnel and waits for a victim to pass by before it pounces on it. Not many are known to escape, of course; the giant house spider previously carried the Guinness World Record for top spider speed at 9.73 feet per second until it was surpassed by sun spiders in 1987.